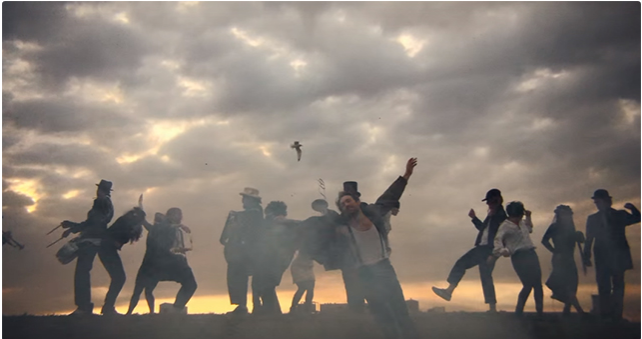 edward sharpe & the magnetic zeros | home | rac remix

Edward Sharpe & The Magnetic Zeros will forever and always be remembered by their much-beloved song Home featuring the vocals of Alex Ebert and Jade Castrinos. The track is the second single released from the band's album Up From Below (2010) courtesy of Rough Trade. And if the song is good enough to make my 11-year old son's playlist then it is certainly worthy of my Throwback Thursday pick of the week. After the jump check out the original video and the RAC Home remix. Also, if you want more of the good stuff check out the band's latest tour de force PersonA out now via Community Music Group. Peace.

Band: Edward Sharpe & The Magnetic Zeros
Track: Home
Featured Track: Home (RAC Remix)
iTunes

Edward Sharpe & The Magnetic Zeros, Home: Lyrics

Alabama, Arkansas,
I do love my Ma and Pa
Not the way that I do love you
Well, holy moly me oh my
You're the apple of my eye
Girl, I've never loved one like you
Man, oh, man, you're my best friend
I scream it to the nothingness
There ain't nothing that I need
Well, hot and heavy pumpkin pie
Chocolate candy, Jesus Christ
Ain't nothing please me more than you
Home, let me come home
Home is wherever I'm with you
Home, let me come home
Home is wherever I'm with you
La la la la
Take me home
Mama, I'm coming home
I'll follow you into the park,
Through the jungle, through the dark
Girl, I've never loved one like you
Moats and boats, and waterfalls,
Alleyways, and payphone calls
I been everywhere with you (that's true)
Laugh until we think we'll die,
Barefoot on a summer night
Never could be sweeter than with you
And in the streets you run afree,
Like it's only you and me,
Geez, you're something to see.
La la la la
Take me home
Mama, I'm coming home
Jade?
Alexander?
Do you remember that day you fell outta my window?
I sure do‒you came jumping out after me.
Well, you fell on the concrete, nearly broke your ass, and you were bleeding all over the place, and I rushed you out to the hospital, you remember that?
Well, there's something I never told you about that night.
What didn't you tell me?
Well, while you were sitting in the backseat smoking a cigarette you thought was gonna be your last, I was falling deep, deeply in love with you, and I never told you 'til just now!
Home, let me come home,
Home is wherever I'm with you
Our home, yes, I am home,
Home is when I'm alone with you
Alabama, Arkansas,
I do love my Ma and Pa
Moats and boats, and waterfalls,
Alleyways and payphone calls
Home is when I'm alone with you!
Home is when I'm alone with you