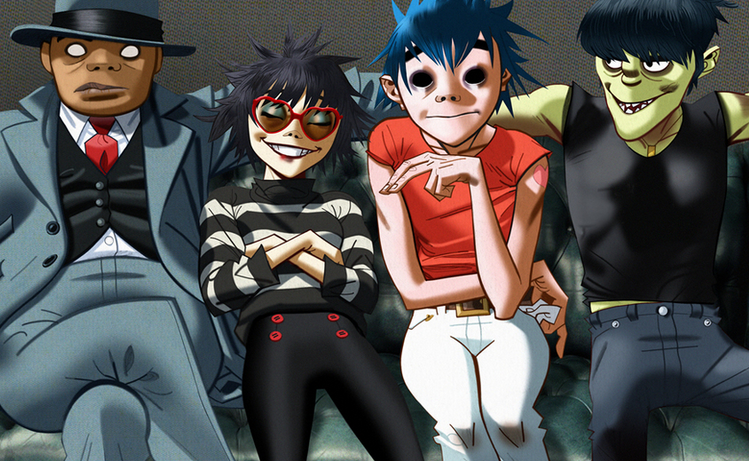 gorillaz | humanz
About the Gorillaz. Well, as one of my all-time favorite bands they haven't failed me and with the release of their brand new spanking 26-track album (Yes! 26 tracks!) Humanz courtesy of Parlophone Records, they sound better than ever! It is crazy to imagine that it has been 7 years since their last release. But, what's really cool is the fact that collectively the Gorillaz have not missed a fuckin' beat. I don't even know where to start with this review.
I don't really know what to say except, if you're already a fan you are gonna love it! And if you are new to the Gorillaz you're gonna love it too! This album, like all of their work, is multi-generational and it slices across so many lines of demarcation: race, class, political leanings, etc. Name any other band which could have pulled off such a feat so seemingly effortlessly? Nada! Damon Albarn has raised the bar here, and he has enlisted so many wonderful iconic musicians and performers from a cavalcade of genres and musical styles. Case in point, the track Charger (feat. Grace Jones! It bangs! But there are so many stupid awesome examples and stupefying collaborations. Ticker Tape (feat. Carly Simon and Kali Uchis) smolders and disintegrates into ashes of profound and beautiful artistry and execution. SIGH! Go listen to this album! Right now you can experience it in all of it's streaming and wonderful glory on
Go listen to this album already! Right now you can experience it in all of it's streaming and wonderful glory on Spotify. I ain't even kidding with you bruh. Enjoy, and as always stay true and you. Peace.
It's me so you already know, I highly suggest vinyl. Here's what you get…
Humanz, pressed on double, heavyweight 12" black vinyl, in a beautiful gatefold sleeve, which also contains a download card.
Track List:
Side A. 1. Intro: I Switched My Robot Off2. Ascension (feat. Vince Staples)3. Strobelite (feat. Peven Everett)4. Saturnz Barz (feat. Popcaan)5. Momentz (feat. De La Soul)
Side B. 1. Interlude: The Non-conformist Oath2. Submission (feat. Danny Brown & Kelela)3. Charger (feat. Grace Jones)4. Interlude: Elevator Going Up5. Andromeda (feat. D.R.A.M.)6. Busted and Blue
Side C.1. Interlude: Talk Radio2. Carnival (feat. Anthony Hamilton)3. Let Me Out (feat. Mavis Staples & Pusha T)4. Interlude: Penthouse5. Sex Murder Party (feat. Jamie Principle & Zebra Katz)
Side D. 1. She's My Collar (feat. Kali Uchis)2. Interlude: The Elephant3. Halleujah Money (feat. Benjamin Clementine)4. We Got The Power (feat. Jehnny Beth)